Ultimate Travel Guide California: Everything you need to know about solo travel in California.
Disclosure: This post contains affiliate links, meaning at no additional cost to you, I may earn a commission if you click through and make a purchase. Read my full affiliate disclaimer here.
Have you dreamt of visiting California your whole life? I don't blame you! Have you finally got the time and funds to visit? Excellent! One tiny problem, you're lacking a travel buddy to come with you? No worries, here is my guide to solo travel in California!
California was on top of my list of places to visit for a long time, I only wanted to visit more when I made friends with a native Californian. When I found myself working in the USA for summer (see more here) and had the opportunity to spend 4 weeks travelling after my contract ended, the only travel plans I had were California! I booked my return flight home from Los Angeles and had 3 and a half weeks to get from Chicago to LA. Read on to plan your dream trip with my California travel guide.
Language: The main language spoke in California is English, however don't be surprised to hear a lot of Spanish spoken throughout the state, California is a melting pot of cultures and you'll find Spanish quite widely spoken too, especially in the south.
Currency: The currency used in California is US Dollars.
Cash and Credit Cards: California, like the rest of the United States has a credit card culture so you'll be able to pay for most things by card. There are plenty of ATMs around, and most places will accept all major cards.
Power: The plugs and sockets used in California are Type A & Type B. The standard voltage is 120 V, and the standard frequency is 60Hz. I recommend buying a universal adapter (make sure it has surge protection) and using a converter for hair dryers and hot tools.
Safety: Generally, the USA is a safe place to travel to. In some cities like Los Angeles, just make sure you're aware of your surroundings and use your best judgement. If you're planning on doing a road trip or travelling throughout the state, make sure you tell a friend or family member what you're doing, where you're going and when you expect to arrive.
Time zone: California is in Pacific Time and observes Daylight Saving Time from March until November. The time difference between the UK and California is -8 hours.
Visa: The USA has one of the strictest visa control systems in the world, so it's very important to consider this when planning your travel to California. I'm fortunate enough to be from the UK which is part of the Visa Waiver Program and makes me eligible to apply for an ESTA visa. Many countries are part of the VWP but make sure you double check when planning your trip to California.
Transportation: Public transport in California isn't the best. The easiest way to travel throughout the state is by driving (road trip time!) or by flying. You can however get buses between cities and the Pacific Surfliner Amtrak train runs along 350 miles of California coastline from San Luis Obispo to San Diego via Santa Barbara and Los Angeles.
Trip Planning – Travel Guide: California
California has the best weather in the USA all year long. Most of the state has a Mediterranean climate with hot dry summers and mild rainy winters so it's all down to preference when to visit California.
California actually has a late summer so you might be surprised with cooler weather and light rain in May and June.
I personally love visiting California in the winter, the days are mild with the occasional rainy shower and you avoid the peak tourist summer crowds.
Budgeting for a trip to California largely depends on where you're visiting and how you're getting around the state. Accommodation and transportation will make up a huge chunk of your budget in California so plan accordingly and prioritise! California can be quite an expensive place to visit so keep that in mind when trip planning checking out California travel guide.
Accommodation: Most major cities in California do have hostels. Hostel dorm beds in California cost between $25 – $45 per night. For mid-range hotels budget around $50-130 per night and to splurge $170+ per night. If you're doing a road trip you can easily get a roadside motel room from $35 a night. I'd highly recommend taking advantage of Air Bnb when travelling throughout the state.
Food: It's easy to eat really well on a budget in California. With fast food places and sandwich shops you can get a meal for $5- $6. In a mid-range restaurant expect to pay around $15 for a meal and drink (don't forget about tipping in the US!). The prices rise from there, just expect to pay more in the major cities.
Transport: In the major cities, it's easy enough to get around via public transport, in San Francisco, a MuniMobile pass gives you unlimited rides for $5 a day.
Travelling the state by bus would cost around $30 one-way San Francisco to Los Angeles whereas a flight between the two would cost $50-70 one-way. Amtrak trains link the major cities as well and cost around $50-$60 SF to LA. Car Hire is the most flexible way to travel in California. This costs around $40 a day but watch out for underage driver charges if you're under 25!
With mild temperatures throughout the year packing for California is relatively straight forward unless you're packing for a snowy ski trip!
Obviously, I'll leave it to you to decide how many t-shirts you need to pack but for a rough guide to travel in California you will need:
Clothing
T-Shirts.
Jeans (for those cool evenings and winter months).
Leggings.
Shorts (Definitely in summer!).
Sneakers / Trainers
Flipflops/ Sandals.
Beachwear/ Swimwear (particularly for summer in So Cal).
Hoodie/ Light cardigan (again for cool evenings).
Lightweight jumpers (for winter).
Socks (Can never pack enough socks!)
Underwear.
Light waterproof coat (Yes, it does sometimes rain in California).
Toiletries
Travel bottle shampoo.
Travel bottle conditioner.
Dry shampoo (because who feels like washing their hair all the time when travelling?)
Deodorant.
Hairbrush.
Any makeup you use.
Toothbrush.
Toothpaste.
Miscellaneous
Padlock or combination lock (always useful in hostels!)
Ziplock bags (prevent any leaks or spillages).
Universal chargers/ adaptors (don't forget this one!)
Water bottle (stay hydrated in California heat).
Portable battery pack (lifesaver when travelling).
Camera! (I'm never without mine).
A decent-sized day bag.
There's so much to do and so many places to visit in California that you probably won't be able to do it all in one trip. Here's a quick guide of places to travel to and visit in California.
San Francisco in Northern California is a bustling city of high-tech and start-ups, diverse restaurants, and fun little neighbourhoods, each with its unique spin. Home to one of the most famous bridges in the world and a great base for exploring Napa Vally and Sonoma Valley wine-making regions and Yosemite National park! Make sure you give yourself enough time to see it all!
Topping your list of places to visit in California should always be Yosemite National park. The photos alone look amazing, but it will never compare to the incredible views in person. You could stand for hours staring out from the viewpoints and exploring all of the park and the trails. Base yourself in San Francisco for a trip to Yosemite, it's around a 3-hour drive to the park from downtown but definitely plan time to stay overnight in Yosemite, whether that's a camping or a luxury hotel. A day trip is possible, but you'll more than likely want to spend more time there than just a few hours.
Los Angeles, city of Angels, A classic must visit place in California, this city has everything! LA is a sprawling metropolis full of movie stars, wannabe actors, musicians, surfers, and lots and lots of traffic. There are so many different places to explore in LA, from the Hollywood Hills to Downtown LA, Santa Monica and Venice beach. Los Angeles should be a must visit city for everyone, even if it's just to say, 'been there, done that'. Los Angeles is a city to enjoy life and you can still stick to a budget and enjoy the best the city has to offer.
San Diego is another major city in California. This incredible city is famous for beautiful beaches, great weather all year-round, an incredible craft brewery scene, and numerous outdoor attractions. With over 100 days of sunshine each year, it's no wonder they consider it America's Finest City.
Pacific Coast Highway, PCH or Highway 1 is one of the most beautiful drives in the world. It pretty much covers the whole coast of California from north to south. For the classic California road trip, most people start in San Francisco and travel south to Los Angeles or the opposite way around. My recommendation would be to travel south for the best ocean views and vista points along the way! For a little more adventure, you can extend your road trip from Los Angeles, through Orange County and make your way down to San Diego too!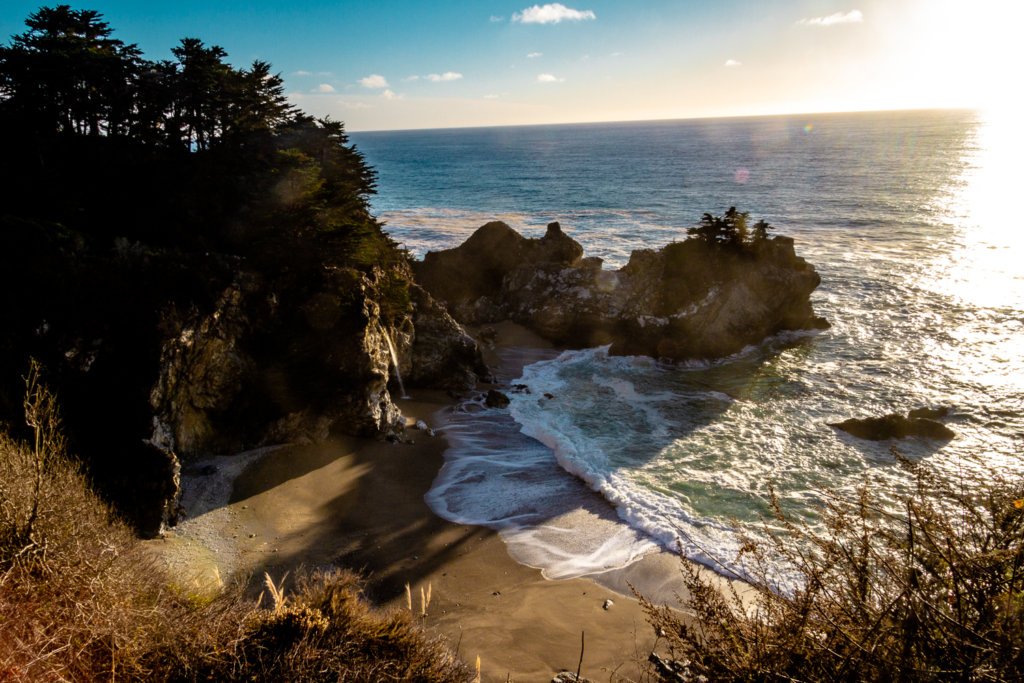 Bordered by Los Angeles in the north and San Diego in the south, Orange County, in my opinion, is one of the most beautiful places in California and there are lots of things to do there too! Home to the happiest place on Earth, Disneyland and with 40 miles of stunning coastline and a laid-back surfer vibe – what's not to love! Whale Watching, Shopping and Theme Parks are just a few ways to spend your time in Orange County.
Orange County is home to the original Disneyland Park and California Adventure, here is 13 TOP TIPS FOR THE ULTIMATE SOLO TRIP TO DISNEYLAND!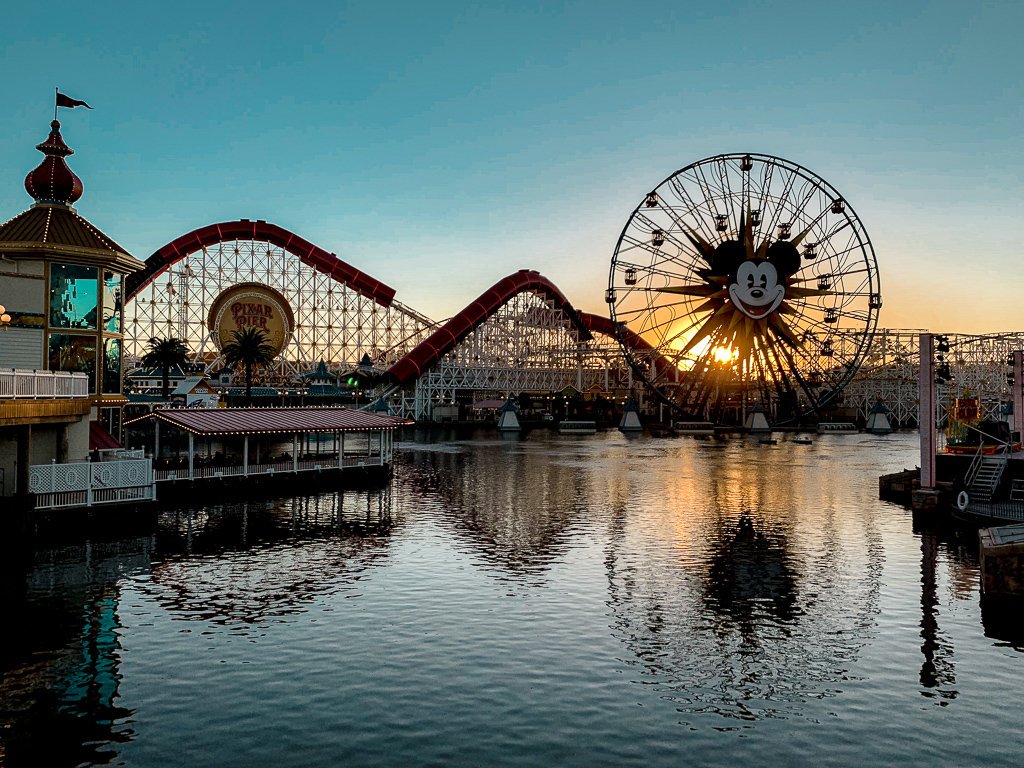 Where To Stay – Travel Guide: California
Safety is important when it comes to choosing where to stay in California, in the bigger cities such as Los Angeles and San Francisco there is definitely more traveller friendly areas than others. Here is my quick guide to location, location, location.
My top spot to stay in San Francisco is Union Square. Right in the central, shopping district of downtown San Francisco, it's a busy and bustling area. Note: Staying in Union Square puts you at quite a distance from San Francisco attractions such as Alcatraz, Pier 39 and the Golden Gate Bridge. A closer spot to stay to these attractions would be in the Fisherman's Wharf area.
Hollywood Blvd is the best location to stay in LA. You will be close enough to the action and all the attractions of Hollywood staying here. Public transport is also reasonably okay from Hollywood and you can get around without needing a car (public transport in California isn't the best anywhere!). Other top locations include Santa Monica/ Venice Beach for a more laid-back beach vibe over the rush of Hollywood.
In Central California, the best city to base yourself at is San Luis Obispo, but obviously this all depends on where you're visiting! See my road trip itinerary guide for more details about SLO and Central California.
Orange County is one of my favourite places in California, it's chilled laid back surfer vibe makes it the perfect place to stay. Close enough to LA for a day trip, and the home of Disneyland and beautiful beaches one of the top places to stay is in Huntington Beach, Newport Beach also offers a dream coastal lifestyle. If you would rather head more inland, Garden Grove is a nice spot in OC and perfect for Disneyland and Knotts Berry Farm. Air BnB is a great choice for accommodation in the area.
Airbnb is a fantastic way to stay in California, check out this Guide To Airbnb in Orange County, California.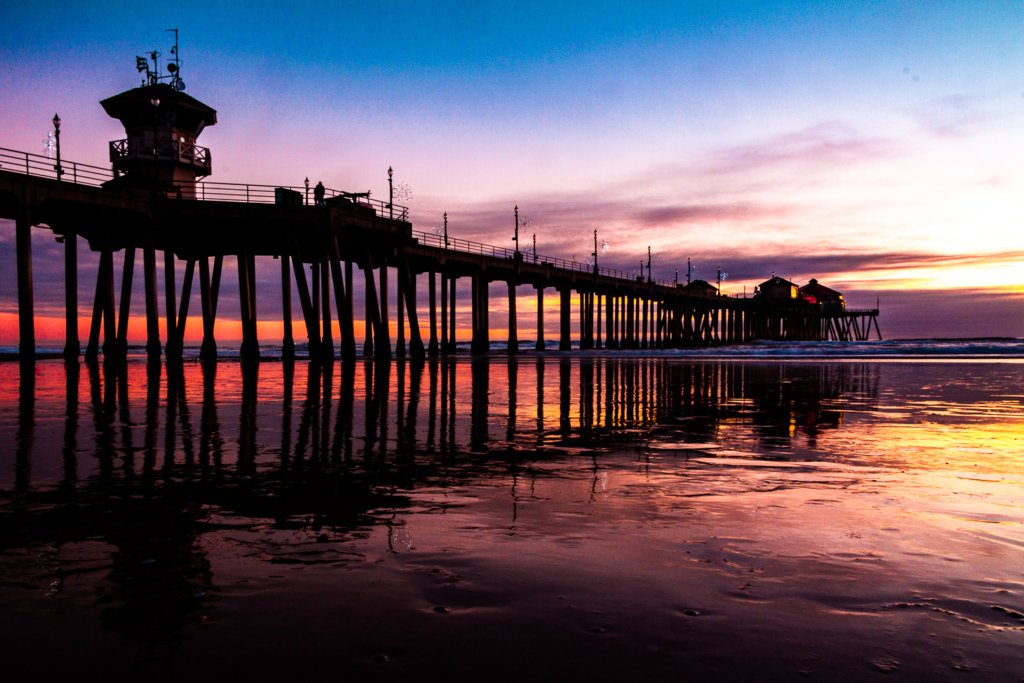 Road Trip Planning: Travel Guide California
One of the best ways to see the highlights of the Golden State is by road trip! Is there anything dreamier than cruising along the coast of California taking in all the sights?
Highway One or Pacific Coast Highway runs alongside the coast from north to south and is one of the most beautiful drives in the world. Start off in San Francisco, you could also check out Napa Valley and Somona Valley while you're there for some of California's finest wine. Heading southbound next on the list is Santa Cruz. Further down the road you'll hit Monterey Bay, Pebble Beach and Carmel by the sea. Make sure you take time to explore these places, say hello to the sea otters in the bay and enjoy the cutesy boutique shops and stunning coastal vistas.
The highlight of any California road trip has to be Big Sur! Make sure you set off early to spend the whole day doing this drive, the views are fantastic all along this stretch of coast and you'll need the time to take it all in. Stop off for photo opportunities at Bixby Bridge, Pfeiffer Beach and McWay Falls. For more than just a day to explore Big Sur, you could also stay overnight. Word of warning, take snacks, meals and don't expect any phone signal.
South of Big Sur, you'll soon reach San Simeon, home to Hearst Castle, this is a great little overnight spot for visiting the home and seeing if you can spot the local elephant seals. Nearby San Luis Obispo is the best place in central California to base yourself on your travels and has been named one of the happiest places in the world. Next on the destination list is Santa Barbara, the American riviera which is bursting with history.
From Santa Barbara, it's an easy road down to Los Angeles, follow PCH through Malibu to Santa Monica, from here it's up to you where you head next. Find a nice spot to stay by the beach in Santa Monica or head into the hotspot of Hollywood. From LA, take time to explore Orange County or even head further south to San Diego.
This of course works the other way but north to south is my personal favourite as you'll be driving on the side of the ocean for the best views!
Coming Soon – Full California Road Trip Itinerary Travel Guide
Like this post? Pin it
---
---